Former Faculty - Where Are They Now?
Ted Faticoni is a Professor at Fordham University.
David Finch is in the Department of Mathematics at Oregon State University.
Mary Flahive is in the Department of Mathematics at Oregon State University.
Mike Grossman retired and is living with his wife Jane Grossman in Florida.
Dominique Haughton is a Professor at Bentley College.
Tom Jiang is at National Cheng-Chi University Taipei, Taiwan
Gerry Kaiser retired in January, 1998 to become Director of The Virginia Center for Signals and Waves, Glen Allen, VA 23060. He can be reached by email at: kaiser@wavelets.com.
Tom Kudzma retired in January, 1998. He is now skiing for the Monaco Olympic Skiing Team. Tom started teaching at Lowell Tech in 1961.
Tom McElligott retired and is living on Cape Cod.
Lou Rossi is on the faculty at the University of Delaware.
Arthur Talkington retired and is living in Fernandina Beach FL.
Virginia Taylor retired in June 1996.
Joyce Williams retired in June 1996.
Ned Wolf was at Keene (NH) State College.
Bill Moloney, and Tom Costello are now on the faculty of the Computer Science Department at Lowell.
Rest in peace
Don Ameen: April 24, 1996.
Lenny Andrusaitis: October 31, 1996.
Ed Baldyga
Maurice Beren
Pasquale (Pat) Condo: July 9, 1998.
Angelo Dadoly: 1996
Bob Devejian: February 25, 2010
Brendan Fleming: 2015
Andy Ouellette: September 15, 2006
Earl Over
Bernie Shapiro: 2015
Charlie Steele: December 25, 2001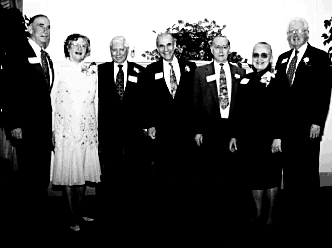 On April 21, 1996 the department gathered at Vesper CC to honor the seven faculty members who have retired after the 1995-96 year. They are (left to right) Bernie Shapiro, Joyce Williams, Pat Condo, Lenny Andrusaitus, Don Ameen, Ginny Taylor and Brendan Fleming.