The History of the Nest Box
When the peregrine falcons' hideaway at Fox Hall was discovered by accident in 2007, the female had laid eggs on a bare bed of gravel on the roof, but the eggs didn't hatch. At the time, it was too cold and too damp because of the wet weather.
In February 2008, Erik Amati, a biologist from the Massachusetts pision of Fisheries and Wildlife's Northeast District in Acton, provided a simple plywood nest box to increase the chicks' odds of survival.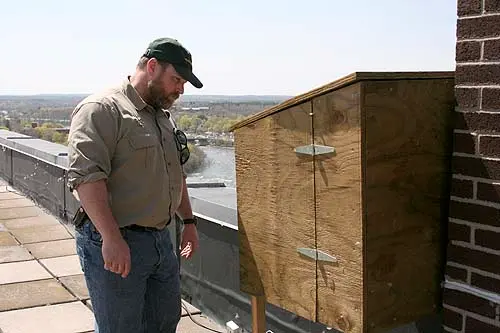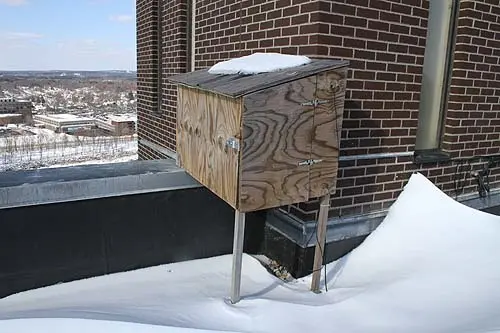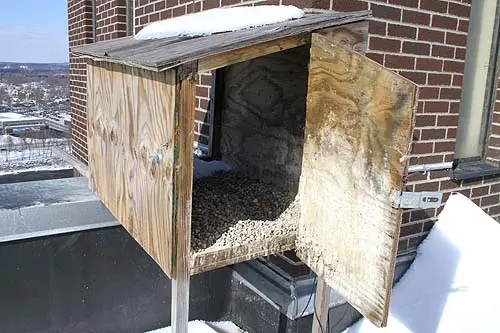 The box also made it easier for the Fisheries and Wildlife team to access the chicks when the time came to put identification bands around their legs. Jason Mercier of Mercier Electric & Communications in Dracut donated a webcam that provided interior views of the nest for round-the-clock monitoring.
As of 2014, the falcon couple has successfully raised a total of 19 chicks atop Fox Hall, including one that was adopted from Lawrence.
Earlier this year, UMass Lowell decided to upgrade the nest box. Norm Desrochers of the University's carpentry shop, in consultation with Tom French of the Division of Fisheries and Wildlife, designed and built a brand-new nest box.
Richard Knowlton and Jeff Mercier of Mercier Electric also installed a new pair of HD-quality cameras to provide live, high-resolution streaming video of the box's interior and exterior, 24/7.
The interior nest cam, which was generously donated by Mercier Electric, is a 5-megapixel Axis P33 network camera with built-in infrared illumination so you can continue to watch the falcons and their babies even in complete darkness.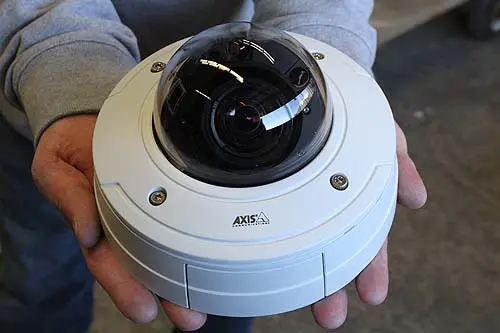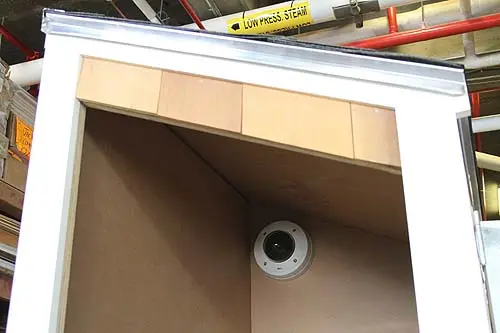 The exterior nest cam, an Axis Q1765-LE network camera, is mounted a short distance from the nest box. It will provide views of the young chicks going in and out of the box as they begin to fledge (take flight and leave the nest), explore their surroundings, hunt on their own and find their mates.
Desrochers installed the nest box atop Fox Hall at the same spot as the original, with the nest entrance overlooking North Campus and the Merrimack River.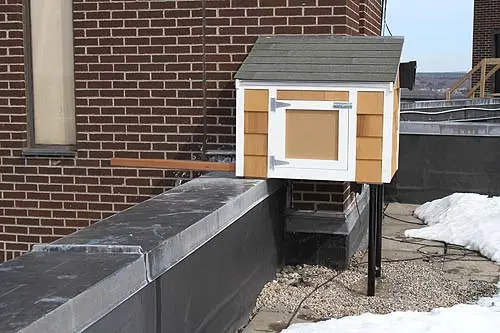 NOTE: The state considers peregrine falcons as "endangered," so it's illegal to disturb, harass or harm them in any way. The University takes the safety and security of the falcons very seriously; the nest box and the entire roof deck of Fox Hall are off limits to the public.