Support Our Students, DifferenceMakers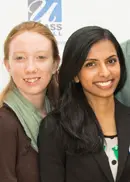 Support our Students (SOS) is a nonprofit organization that addresses the issue of hunger in the UMass Lowell community. Initially the team started off as a group of three community social psychology students; Teresa Shroll '15, Mary Tauras '15 and Sadie Prickett '15. SOS drew its inspiration from programs in Europe where surplus food products were sold at reduced costs to community members in need. They quickly learned, however, that there was no eminent need for such a program in Lowell, and therefore shifted their attention. Their adviser,
Khanh Dinh
, directed them to the DifferenceMaker program where they learned entrepreneurial skills from various workshops and events. The team decided to redirect their motivation towards a program that would help feed students on campus. DifferenceMaker assisted the group in many aspects including helping them expand to a multidisciplinary team by adding three additional members. These members included Xavier Guay '15 in
computer science
, Chandana Penukonda '14 majoring in finance and Anna Henson '17
marketing
major.
SOS is a multifaceted organization. One component is a meal donation system which allows students with meal plans to contribute one guest swipe to a student in need, or which otherwise allows people to purchase $5 "meal scholarships," which will be placed on the ID card of an in-need student for their use at an on-campus dining hall. Another component is that SOS intends to host workshops on a regular basis that will build awareness for the program and teach valuable lessons on nutrition and affordable food prepping and spending. Support our Students will also hold periodic food drives that will stock an on-campus food pantry for students in need.
With this socially conscious and well thought out idea, Support our Students applied to the 2014 Idea Challenge and won the top prize. SOS was named Campus-Wide DifferenceMaker and received a $7,000 award to help advance their idea. In the long term, SOS would like to expand their efforts beyond UMass Lowell. They hope to develop a "tool-kit" that can be implemented on other campuses to feed hungry students. Their efforts in this upcoming year will serve as a model for campuses to replicate in the future. With the continued support of DifferenceMaker and the dedication of each team member, SOS is confident that they will be successful in their endeavors to support and feed students on campus.