NerdOnyx , DifferenceMakers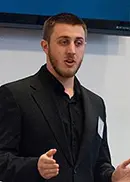 NerdOnyx is a web-based learning tool that provides articles, videos and other resources to enhance the learning of
engineering
students and help bridge the gap between the classroom and the industry. This team comprises of an interdisciplinary team. Six of the team's seven members; Ryan Hart '14, Ph.D. candidate Shiv Sharma, Kyle Vigeant '14, Timothy Pflanz '14, Albert Andio-Aponte '14, and Ph.D. candidate Kyle Homan, have educational backgrounds in STEM fields, and share in a common belief that there is an opportunity for improvement in the way that education is conducted in those fields. Anu Purohit '15 has an
MBA
from UMass Lowell and joined the team of engineering students to help further their project.
The idea behind NerdOnyx emerged when founding member Shiv Sharma began working as a Teaching Assistant in an electronics lab on campus. There, he noticed difficulty among students in applying theory taught in lectures to laboratory work. Shiv traced the issue to a disconnect in how information is conveyed to students in lectures and the ways that modern students are best able to comprehend information. He imagined a better way of doing things and recruited the help of Ryan Hart and Kyle Homan.
In spring 2014, the group brought their innovative idea to the DifferenceMaker Idea Challenge. NerdOnyx won second place in the "Significant Social Impact" category and received $2,000 in funding to advance their idea. NerdOnyx believes that DifferenceMaker was valuable in providing the team with a platform by which they could get noticed by the public, and provided them with feedback to refine and further their idea.
Since their success at the Idea Challenge, the team has been working hard at creating content for their web platform. NerdOnyx hopes to provide resources to the entire STEM field, a task that they recognize as being daunting and one that will require meticulous work to ensure the high quality upon which their success will depend, but they are confident that they will be able to complete it given their skillful and well-educated team as well as support from the DifferenceMaker program. In the long term, the team's members foresee NerdOnyx being a pioneer in STEM learning and eventually serving as a frequently referred to platform with content created not only by team members, but by verified experts across the field.