Liam Fouhy, Center for Population Health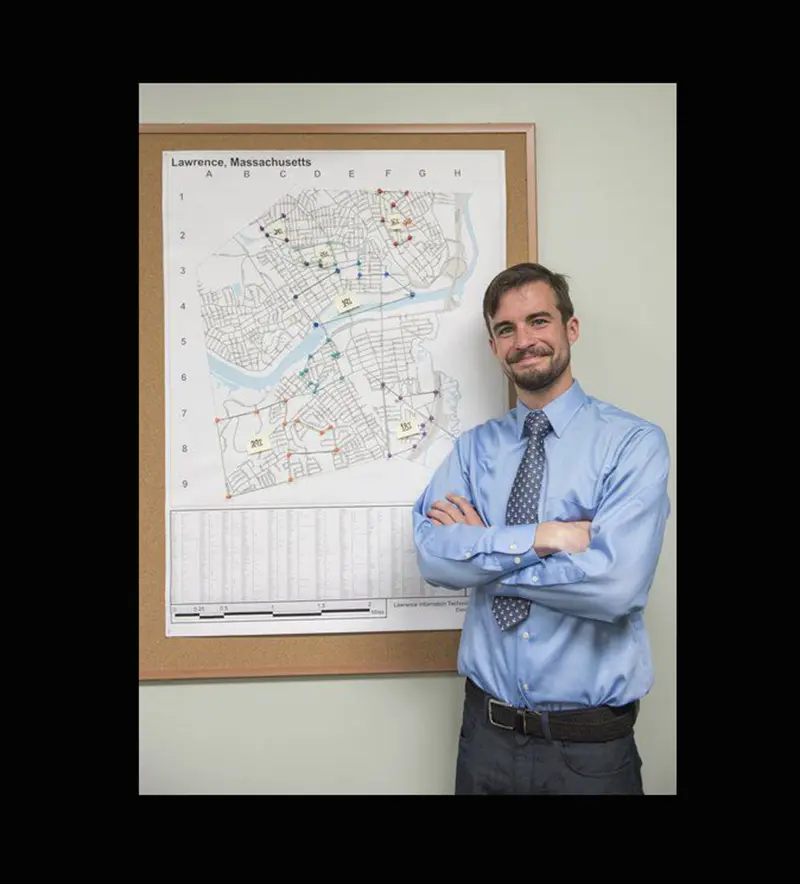 From field work assessing the City of Lawrence's walkability to big data management and analysis of a national health survey, Liam Fouhy has received a well-rounded, hands-on learning experience working as a student in the Center for Population Health (CPH).
When Fouhy began supporting Asst. Prof. Sabrina Noel of Biomedical and Nutritional Sciences in her Age-Friendly Lawrence project for his directed study as an undergraduate, little did he know that his experience would lead to a broader opportunity for other students. His initial work with the project involved walking the streets of Lawrence to gain an understanding of the conditions of sidewalks, placement of crosswalks, and other components that make for improved walkability within a community. These assessments would eventually be used to compile a report of recommendations for the city. The success of the project has led to further assessments of active aging and healthy living in the region, and with Fouhy's experience as a framework, a program involving similar work was developed for other undergraduate students and their practicums. Now, Fouhy helps coordinate and provide training to the new students who are going directly into the community.
While assuming additional responsibilities, Fouhy has enjoyed the ability to collaborate with community leaders and stakeholders, having since built meaningful working relationships with those who are making an impact. Of course, each community has its own set of challenges and identities which make for problem-solving a new experience for each city or community that partners with CPH. "In our research, there's a mix of science, networking and human-to-human interaction. I'm drawn to this type of community-engaged research," says Fouhy.
In addition to Age-Friendly Lawrence, Fouhy works on several projects with other CPH faculty members. Most recently, he started contributing to Prof. Katherine Tucker's work with the National Health and Nutrition Examination Survey. With large health datasets from across the country, Fouhy supports the cleaning and analysis of the data as the team studies how nutrition may lead to certain instances of chronic diseases such as osteoporosis, heart disease and cognitive decline.
As Fouhy develops his aim for his dissertation as a masters student in public health in epidemiology, he hopes to continue this heavy data-driven track, utilizing his background in nutrition and biotechnology. However, he plans to incorporate the relationships he has built with the community partners in his project.
"The best career decision I have ever made was to volunteer for the CPH and try to get involved with as many different experiences as I can. All of the professional skills that I have in my career right now can be directly or indirectly attributed to CPH. It is an invaluable experience," says Fouhy.
Having had the opportunity to work in a variety of projects and settings, he is well-equipped to form his own projects based on Fouhy-tested and approved interests.