Indoor Hydroponic System, DifferenceMakers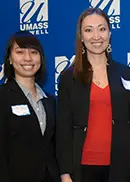 This team came back and stole the show. They won $2,500 as Fan Favorite. Team members include Rapheeporn Aungaphinant (Graduate,
MBA
), Katherine Cain, (Graduate,
MBA
), Tucker Holladay (Graduate,
MBA
), Shu-Wei Hsu (Graduate,
MBA
), and Alima Shamuratova (Graduate,
MBA
).
The Indoor Hydroponic System is equipped with an environment monitoring system that ensures optimal growing conditions for plants and requires little to no maintenance. The team did not make it through to the finals, but they had the opportunity to present their poster for the chance to win Fan Favorite, along with other preliminary teams that did not make it to finals. They received the most audience votes and were awarded Fan Favorite.