Grab a Bite , DifferenceMakers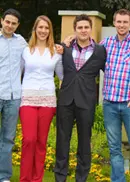 The goal of Grab a Bite is to provide its customers with a free mobile and web platform that allows users to discover and connect with local restaurants. Grab a Bite is a restaurant informational hub for consumers, fusing existing technologies (Groupon, Open Table, Google Maps, Menus.com, etc.) into a bigger, more convenient and comprehensive version.
Grab a Bite was founded by electrical engineering student Aldo Beqiraj and computer science student Andrew Webb '13. The team then expanded to include computer engineering student Denis Lemos and business student Harry Dessieu to their roster, to facilitate their marketing presence. 
The Grab a Bite team attended the DifferenceMaker kick-off event to discover additional information about the program. As a result, the team decided to apply for the Inaugural DifferenceMaker Idea Challenge. After the application process, they attended a variety of workshops that helped them enhance their idea and prepare for the Idea Challenge.
Grab a Bite pitched their business in the preliminary round; they were not chosen by the judges to proceed on to the finals. However, Grab a Bite was voted "The Fan Favorite," which allowed them to continue to the final Idea Challenge. After a three minute rocket pitch the team won the title "First to Market" and was awarded $3,500 by the panel of judges.
Since the Idea Challenge, Grab a Bite has continued to be a success. They recently merged with an online ordering company called Click-a-Waiter, raised over $10,000 in the first day of their crowd funding campaign on Indiegogo, and was able to secure several investors, which has allowed the team to further develop the business, as well as market the product. Grab a Bite has been recognized by the Boston Globe and won the people's choice award at the Mass Innovation Foodie Night. In addition, the CEO, Aldo Beqiraj presented the company at UMass Lowell's 2013 Convocation event to an audience of 1,500 students. The student audience text voted making Grab a Bite the first place winner. The team received $1,500 to continue to move their project forward. They are in the process of redesigning their website and mobile applications as well as marketing their newly designed company.