BioBubbler , DifferenceMakers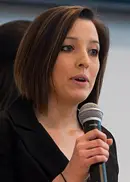 The inspiration for BioBubbler came to its founder, biology major Rachel Paquette '14, in a course titled Science and Technology in the Modern World, which she took during her junior year at UMass Lowell. The honors course, taught by Robert Giles, brought in a series of guest speakers. One speaker talked about the widespread and often times deadly effects of contaminated water in impoverished regions of the world. From there Rachel was compelled to take action and create a water filtration system solution that could be brought to areas around the world most affected by this problem.

Not long after embarking on her project, Rachel learned that the life-saving process of water filtration could be simple; however she anticipated a challenge in actually bringing the filtration systems to third world countries. Undeterred by this anticipated obstacle, Rachel began working to perfect the BioBubbler system. She began using her educational background in biology to develop a system that uses three layers of sand with progressively larger particles. A naturally occurring reaction with the sand and the bacteria and nutrients from the water added to the system serves to purify the water so that it can be safely consumed.

Having developed an effective filtration system, Rachel was committed to bringing the BioBubbler to areas where it was needed, and opted to focus on Haiti. She knew that the success of her project was going to be dependent on the education of the people who would be utilizing it. For these systems to remain effective, users had to be trained on how to use and maintain the systems, as well as why they worked. From her research, she knew that other similar projects have not succeeded due to their failure to recognize this.  For this reason, Rachel believes that educating the people of Haiti is essential to BioBubblers sustainability. Prof. Giles serves as a mentor for the project and traveled to Haiti in 2013 to install a BioBubbler. Rachel visited Haiti in January 2014 to reinforce her commitment to the project.

Rachel spent one year working on perfecting the BioBubbler system with the support of Prof. Giles and the Haiti Development Studies Center (HDSC) which sponsored her trip to Haiti in January, as well as the construction of the first five BioBubblers. In April 2014 Rachel decided to take her entrepreneurial and socially-conscious project to the DifferenceMaker Idea Challenge. She added business student Nawal Khan '15 to her team who helped bring a business-oriented perspective to the project and who also helped pitch the project at the Idea Challenge to a panel of alumni judges.

The team won first place in the "Significant Social Impact" category and was awarded $4,000 to help them advance their project. The team hopes to use the funds to establish an advanced testing lab at the HDSC in Haiti, which will ensure that filtrated water is being rid of all harmful bacteria. They describe DifferenceMaker as an extremely valuable resource that helped their idea become more of a reality.