Fresh Beets, DifferenceMakers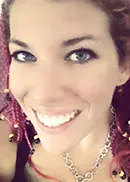 Fresh Beets is a community initiative in Lowell created to feed the body, mind and soul through food, education and music. The initiative is materialized as a food truck that also serves as a music venue. The food truck will sell locally sourced, fresh, and healthy food that will change with the seasons. On the back of the truck there will be a fold out stage where community musicians will compliment the local flavors with tasty licks of their own. Savanah states that "There are no two greater forces, which unite a community than food and music. We need this kind of synergistic experience in Lowell."
The project was founded by Savanah Marshall '14, a graduate student in
Music Education
and
Community Music
. She has also begun working with a student from the honors program and business department to develop a business plan as part of his honors thesis.
Fresh Beets serves not just UMass Lowell, but the Lowell community as a whole; it works in downtown Lowell, school yards, skate parks, festivals, parades and neighborhoods. Savanah is currently interning with Mill City Grows to study their program and better understand where her own food will be sourced from; all of the food at Fresh Beets will be locally sourced, just as the music will be performed by local musicians at both the professional and student level.
Fresh Beets competed in the 2014 DifferenceMaker Idea Challenge and won first place in the "First to Market" category, a $4,000 award. The project was also featured in the May 2014 print edition of "Howl," a local arts and culture magazine. That same month, Marshall was chosen by popular vote to speak at the Cultural Organization of Lowell's Un-Conference, where she shared the idea of Fresh Beets with the city's cultural and nonprofit leaders.
Fresh Beets can be found on
Hawk Hatch
, where Savanah is raising funds via crowd sourcing to grow Fresh Beets from idea to reality. In the meantime, Savanah is cooking away in her test-kitchen to have recipes ready for when the truck rolls onto the streets.