Solar Sails, DifferenceMakers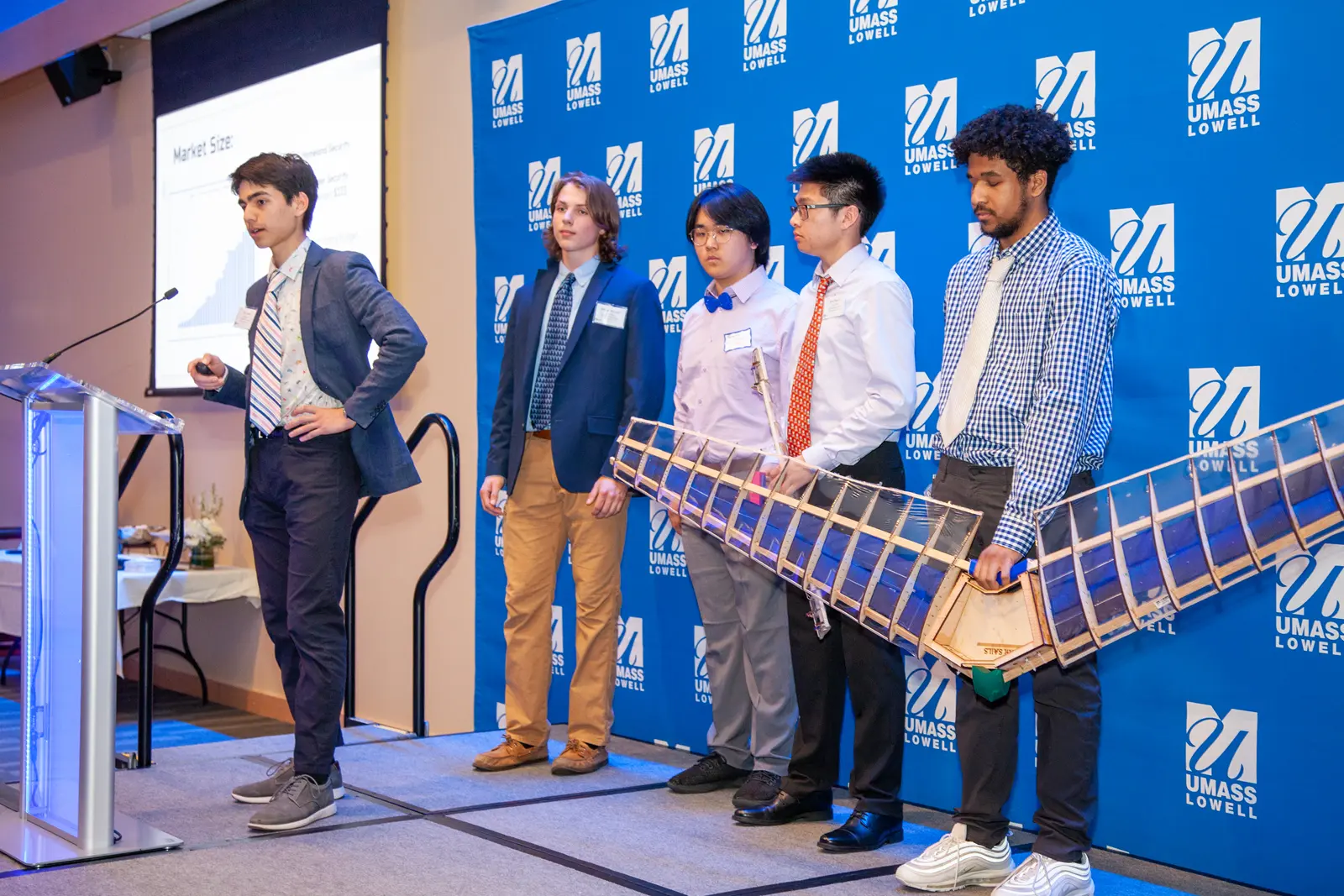 Commitment to a Sustainable Environment Award at the 11th Annual DifferenceMaker $50,000 Idea Challenge
Second Place 2022 Francis College of Engineering Competition
Solar Sails is a team working to develop an efficient solar powered drone! The team pitched their idea for a solar powered drone which would have long duration flight endurance to help government agencies survey vast areas of land and water which is necessary to prevent illegal substances from entering the country.
Team Solar Sails is made up of six Mechanical Engineering students, Quin Liang, Samuel Maracallo, Michael McCarthy, Aidan McKeon, Brian Nguyen, and Mohammad Saif, as well as two Computer Science Majors Fuming Zhang and Arun Kandasamy with a business minor. They participated in the 2022 Francis College of Engineering Competition. During the competition the team showed off their prototype of the solar powered drone and pitched their idea to guest judges. The team was awarded second place and received $1,500 in funding to further their idea.
Additionally, the team went on to compete in the 2023 DifferenceMaker $50,000 Idea Challenge and was awarded the Commitment to a Sustainable Environment award (sponsored by Rist Institute for Sustainability and Energy), a $4,000 award. At the $50,000 Idea Challenge, the team showed off their improved, realistic prototype of the drone. Team members Quin and Michael described the issue of the current solution in detail including precise numbers and data. They then introduced their proposal for a new type of drone that will be more efficient, less expensive, and powered by solar energy which allows for the flight duration to last longer. With the funding, they plan to continue to create a working prototype of the drone and further their market research with mentors.