Robotic Feeding Arm, DifferenceMakers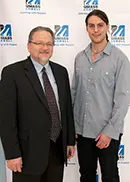 The Robotic Feeding Arm is an assistive technology for patients who are not able to feed themselves. Currently, these people depend on being fed by a health care professional. This technology was invented by Philip Colangelo, a graduate student in
computer engineering
. Philip earned an undergraduate degree in electrical engineering with a minor in robotics from UMass Lowell.
The Robotic Feeding Arm is designed to feed people in need with the proper proportion of food in each spoonful. This technology will make health care facilities staff more effective with their time and increase productivity while giving some independence back to the patients in need. "Eating can be a stressful, rushed experience when relying on others, especially in assistive care facilities that are understaffed," said Philip Colangelo when asked about his project. 
Philip entered his technology in the first annual 2013
DifferenceMaker Idea Challenge
. After progressing through a series of workshops to help prepare and refine his idea, he was selected to pitch in the Preliminary Round of the Idea Challenge. He impressed the judges in the semi-finals and progressed to the final round of the Idea Challenge. After a three minute rocket pitch to a panel of alumni judges, the Robotic Feeding Arm was awarded first place in the "Innovative Technology" category, which represents a new technology that has the potential to change an industry, as well as change the lives of the people who use it. Philip was awarded $3,500 as a result.
Since the Idea Challenge, Philip has entered the Robotic Feeding Arm into the Merrimack Valley Sandbox Accelerator Program, which gave him insight towards getting his product into the marketplace. Philip also plans to incorporate the Robotic Feeding Arm into his master's thesis by implementing new technology into the device, therefore making it more adaptable to nursing homes and other assistive care facilities.
Philip's Robotic Feeding Arm has received recognition outside of the Idea Challenge. The project earned second place in a High-Tech Pitch Contest over the summer, was voted the fan favorite at the Merrimack Valley Sandbox Summit Event and became a finalist in the Merrimack Valley Sandbox Accelerator Program.