Rent Scoop, DifferenceMakers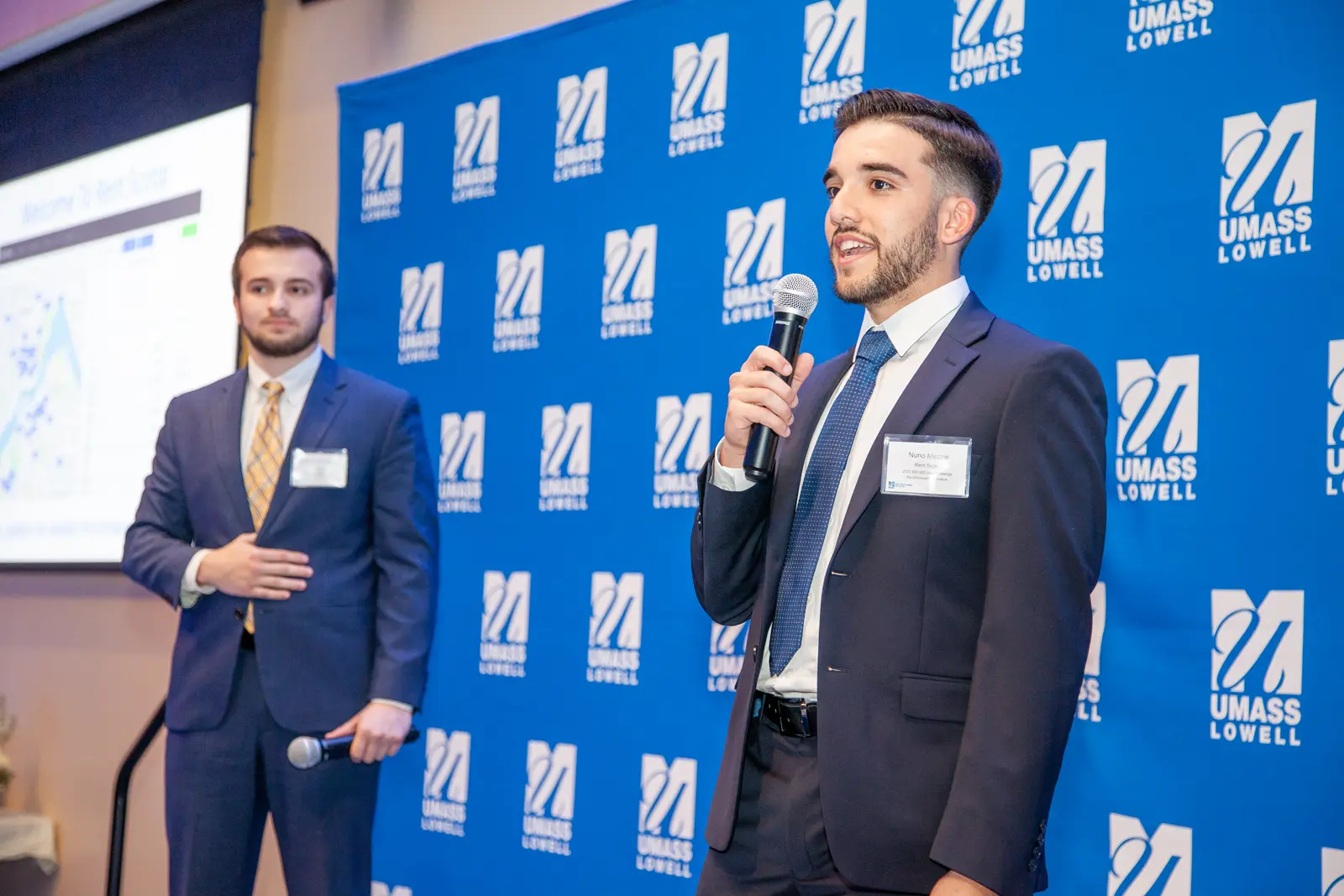 Sutherland Innovative Technology Solution Award Winner at the 11th Annual DifferenceMaker $50,000 Idea Challenge
Finding the correct information regarding rent in your area is a challenge for many. A team of Computer Science Students: Anthony Terravecchia and Nuno Mestre are working to create an online platform that serves as a database for new renters.
Team Rent Scoop pitched their idea to combat this problem at the 11th Annual $50,000 Idea Challenge in 2023 and won the Sutherland Innovative Technology Solution Award of $4,000. During their pitch, they displayed market research and were able to collect data to demonstrate a prototype of the platform to judges during the $50,000 Idea Challenge. They explained that there is a huge lack of information about prices of rent and oftentimes renters find this to be an extremely frustrating part of finding a new apartment. Rent Scoop is a website that provides a community-driven platform seeking to provide renters with access to never-before-seen data on rent prices in their area. The platform would allow for users to provide information anonymously about their rent such as cost and general location. This would then be posted for people looking to rent in that area.
This platform would remove the obscurity around the cost of rent, utilities, and the condition of leases to allow for a fairer market for tenants and landlords. By crowdsourcing rental data for an area, and then making it publicly available for both landlords and renters, the possibility of unfair rental transactions is greatly reduced. For the first time, renters can have a legitimate view, based on historical verified local data, on the past prices and conditions of the places they are renting. With the platform, renters will be able to make better decisions once given the data, and landlords will have more stability in their prices. Landlords will be able to build a historically strong track record of good reviews, which will benefit good landlords, whereas bad landlords will be filtered out by this crowdsourced reviewing system. This platform will be the first step in healing the nation's rental prices - by taking our blindfolds off when it comes to housing - and getting the scoop on what is really going on where we all live. Nuno and Anthony had already developed and demonstrated the platform during the Idea Challenge and plan to use the money they were awarded to continue to collect market research and improve the idea.