OTTOnomous Technology, DifferenceMakers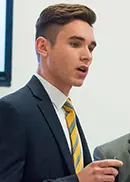 OTTOnomous Technology is a novel solution for replacing camshafts in car engines with electro-mechanical actuators. These actuators are adaptable to all carbon, gasoline and diesel engines as well as composed of modular and adaptable parts. This allows for quick adoption by the auto-manufacturing industry. The team is composed of Erik Christiansen '14,
mechanical engineering
; Victor Maldonado '14, accounting and
international business
; and Jeremy Dorson '14,
electrical engineering
.
The electro-mechanical actuators designed by the team offer infinitely variable valve time and are projected to be able to slash United States' fuel consumption by 3.5 million gallons per year, saving both money and the environment. The product meets consumer demands of reducing the cost of motor vehicle operation and societal demands of reducing greenhouse gas emissions.
OTTOnomous Technology competed in the 2014 DifferenceMaker Idea Challenge and won first place in the "Innovative Technology Solution" category, earning $4,000 in prize funding. The team has developed prototypes and is currently in the patent application process. If funded further, they project an 18-24 month timetable to achieve significant market penetration and begin licensing their technology to companies.